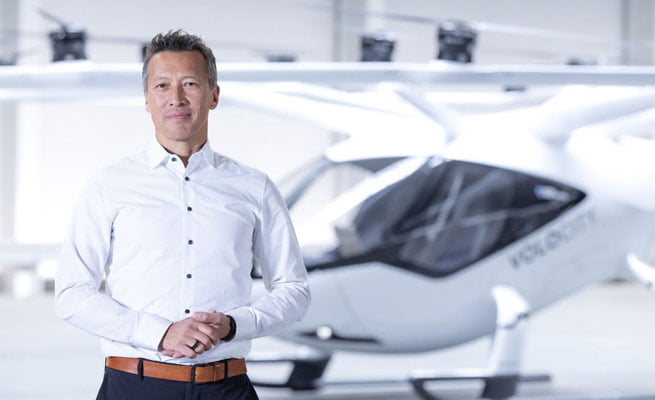 Dirk Hoke, former CEO of Airbus Defence & Space, was announced as Chief Executive Officer and Managing Director of Volocopter, the pioneer of urban air mobility (UAM) by the company's Advisory Board, starting September 2022. He will follow Florian Reuter, who has led Volocopter from a five-person start-up to a 500-strong global company with unicorn status over the past seven years.

Hoke brings extensive experience in leading big tech entities within Airbus and Siemens from a technical, strategic, and commercial side. His strong track record in transformation and digitalization made him the candidate of choice. Volocopter makes the dream of electric flight in cities come true and aims to be the first UAM developer to go to market.  

"Out of an impressive lineup of candidates, Dirk Hoke was our absolute preferred choice. Combining our success with Dirk's experience and vision for our company, Volocopter will continue to lead the emerging industry and successfully master the coming phase of growth and commercialization," said Stefan Klocke, Chairman of the Advisory Board at Volocopter. "The ability to attract such a renowned industry leader is proof of the quality of the work done by our team. Volocopter is in the best shape ever: We fly our aircraft in cities worldwide, increased our valuation to over USD 1.7 billion, raised over USD 579 million in funds, and established historic industry milestones that make us the undisputed leader in UAM. All this would not have been possible without the passionate leadership of Florian over the past seven years. We are truly grateful for his extraordinary contribution and let him go with a heavy heart. We fully respect and understand his personal decision and are happy to keep him in the family as a friend and shareholder." 

"No company is closer to making this most innovative form of mobility a reality in cities around the world than Volocopter. Bringing electric air taxis to market in the next years is a dream come true not only for me but for many," said Dirk Hoke, future CEO of Volocopter. "My experience from Airbus and Siemens will help us monetize on the leading market position Volocopter has achieved under Florian's leadership. Volocopter's product lineup, its certification progress, team spirit, and ecosystem approach put us in a unique competitive position."  

Reuter will leave Volocopter upon his own wishes after a successful handover period to Dirk Hoke has been completed in September 2022. "I have known Dirk for a number of years and am convinced that his experience and leadership style are a perfect match for the strategy and culture at Volocopter, which is why I put his name forward to the Board. It has been an incredible privilege and honor to serve as Volocopter CEO to a world-class team from across the globe. It is thanks to every single one of them that Volocopter continues to lead air taxi development. I'm proud of the team and wish Dirk all the best on the great Volocopter journey ahead," said Florian Reuter, CEO of Volocopter.  

Volocopter has been developing UAM for over a decade. It has created a family of electrically powered aircraft that can transport passengers (the VoloCity and VoloConnect) and goods (the VoloDrone). It is the only eVTOL company that has obtained design as well as production organization approvals (DOA and POA) from the European Union Aviation Safety Agency (EASA).