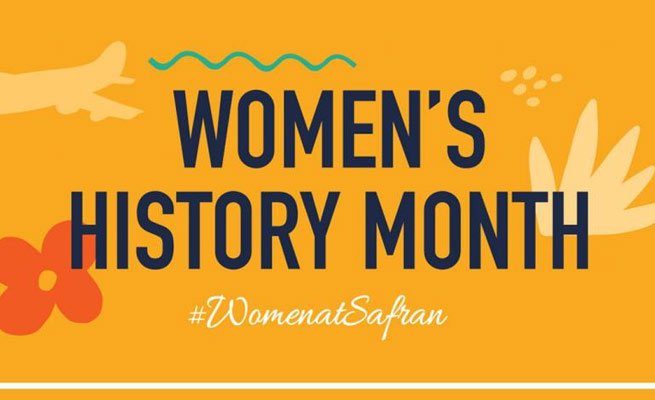 March is Women's History Month, highlighting the contributions of women in our contemporary society. It includes today's celebration of International Women's Day, which places the focus on a more gender-equal world.
These initiatives are fully aligned with Safran's ambition to elevate and advance gender parity in technology and to celebrate the women who are forging innovation. Throughout the month of March, women from Safran's sites in the United States will tell their stories through a series of questions and answers.
Janelle Bronaugh
Health, Safety, Environment Director
Safran Electrical & Power
How do you empower your fellow female colleagues and other women in your world?
I am part of an outreach program with my church called IGNITE. It is a young women's mentoring program that I have been involved with for years, where we teach underprivileged young women, ages 7 to 18, the fundamentals of life – ranging from education and tutoring, forgiveness and healing, savings and money management, etc. This is extremely important to me because in certain walks of life, many people are not exposed to this type of teaching and need the help of others. I also empower my co-workers through encouraging words and positive affirmations. I have experienced, and sometimes still experience, being the only woman – or one of the few women – in a male-dominated room. It doesn't intimidate me, but rather motivates me even more to succeed and to break barriers.
What would you say to younger women hoping to join Safran?
I would tell them to find their passion and pursue it without any regrets! Also, be confident and comfortable with having success. Join up with someone who is where you want to be, and learn from them. Take a chance and don't let upsets bring you down. There were times in which I tried and failed, but it was getting back up, dusting off, and trying again that made me stronger. All of your goals are within arm's reach, but you need a plan! "If you fail to plan, plan to fail!"
Edita Torres-Salcepuedes
Director of Engineering – Head of Design Authority
Safran Cabin Water & Waste Systems
What advice would you give to aspiring female engineers?
Stay focused, don't hesitate to give ideas and solutions. Stay humble and don't give up if you encounter naysayers along the way. Share your knowledge and you'll realize you'll gain more. Listen and learn from mistakes. If it seems too late, then at least learn from your own mistake rather than ignore the situation and never learn at all. Most of all, love your family, as they are your best cheerleaders to inspire you to go to work every day.
How do you tackle workplace challenges?
I set my mind that challenges can only make me better. I ask myself: What can I learn from them? Whether the challenges are on products or people, they strengthen my knowledge or my character. I handle them day to day, so they don't overwhelm me.
Karen Bice
Director, Antenna Programs and Special Projects
Safran Data Systems, Inc
Have you been mentored by other women during your career?
Two women mentored me in my career – both were military leaders that came before me, and there are two things that I remember the most. First, I could watch them from afar to see how they handled themselves in difficult situations and learn from their actions. Second, they took time to talk to me and explain some of the unique challenges they faced, and it made me understand that we are not alone in what we experience.
What do you enjoy the most about working at Safran?
I love working in a fast paced, challenging environment with a smart, innovative, and motivated team. I rarely know where the workday will lead me, but it's never boring!