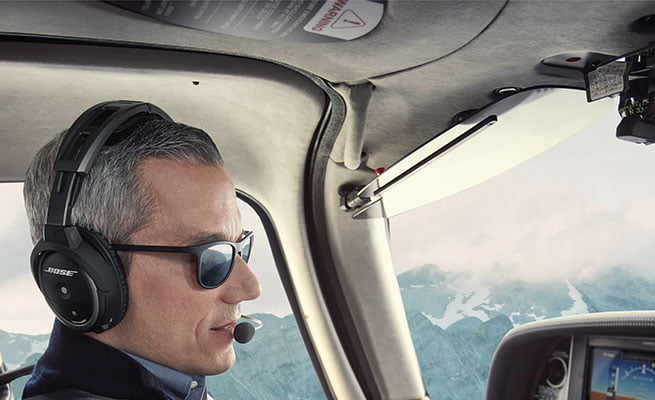 BRP-Rotax is proud to announce the cooperation with Bose Aviation for the new Rotax Care initiative which is launched at the Aero 2022 in Friedrichshafen and will be available for the worldwide aircraft customers from now on.
Rotax aircraft engines are worldwide best known for their reliability and best-in-class power-to-weight ratio and have gained the trust of flight schools, home builders and aircraft manufacturers alike. Setting standards and trends, Rotax aircraft engines lead the market in the light and ultralight segment. Therefore, it is no wonder, that BRP-Rotax has decided to cooperate with Bose Aviation, the premium manufacturer of headsets for their new Rotax Care initiative.
Both brands share the same pure passion for outstanding performance and are driven by enthusiasm for innovative solutions that provide unique experiences for their customers. The Rotax aircraft customers can now profit from this partnership.
"When we teamed up with Bose Aviation it was like finding the perfect match and I am proud to announce the cooperation with this exceptional brand", said Peter Oelsinger, General Manager BRP-Rotax / Member of the Management Board, Vice President Sales, Marketing RPS-Business & Communications. "Our aircraft customers can now benefit from this partnership with the add-on of the high-quality Bose A20 Aviation Headset in the new Rotax Care package with extended offers."
Rotax Care. The no-compromise warranty.
Rotax Care is the extended warranty program for our Rotax 4-stroke aircraft engines, 912 iS/c and 915 iS/c. Extending the Rotax standard warranty coverage, Rotax Care adds three years of peace of mind or the time to reach a Time Before Overhaul (TBO) – whatever comes first.
All parts, labor, and troubleshooting covered. No catch.
Rotax Care covers all engine parts – mechanical and electronic. Rotax service partners and iRMT-certified technicians will service and troubleshoot your engines using genuine Rotax parts only.
Embrace the best. We do too.
Extend your warranty with Rotax Care, and we'll enhance your piloting experience – with a Bose A20 Aviation Headset included in your package. Among the lightest of all active noise cancelling headsets, the A20 provides 30% greater noise reduction than conventional aviation headsets. No matter why you fly, the Bose A20 Aviation Headset is engineered to improve the experience.
Visit our booth at the Aero from April 27 to 30, 2022 and talk with our specialists about your advantages of Rotax Care for your aircraft or visit our website www.flyrotax.com for more details about Rotax Care.
With more than 200.000 engines sold and a global operating 4-stroke-fleet of more than 50.000 engines, Rotax aircraft engines lead the light sport and ultralight aircraft market. Rotax offers a worldwide network consisting of 15 authorized distributors and more than 220 points of sales and service supporting 280 OEMs with more than 450 Rotax powered models and customers worldwide. Therefore, Rotax aircraft engines are supplied to more than 80% of all aircraft manufacturer in its segment.
About Bose
Bose Corporation was founded in 1964 by Dr Amar G. Bose, then a professor of electrical engineering at the Massachusetts Institute of Technology. Still today the company is driven by its founding principles, investing in long-term research with one fundamental goal: to develop new technologies with real customer benefits. Bose innovations have spanned decades and industries, creating and transforming categories in audio and beyond. Bose has a simple mission: think of better solutions, create better products, help people enjoy the things they truly love. Everything we do supports this mission and points us forward. Bose aviation headsets are certified to FAA TSO and EASA ETSO standards.
Bose Corporation is privately held. The company's spirit of invention, passion for excellence, and commitment to extraordinary experiences can be found around the world – everywhere Bose does business.
About BRP-Rotax:
BRP-Rotax GmbH & Co KG, the Austrian subsidiary of BRP Inc., is a leader in the development and production of propulsion systems for the leisure and powersports sector. Founded back in 1920, BRP-Rotax has been committed to future-proof mobility and technological progress for more than 100 years. The innovative Rotax four- and two-stroke high-performance engines are used for BRP products such as Ski-Doo and Lynx snowmobiles, Sea-Doo Personal Watercraft, Can-Am on- and off-road vehicles as well as for karts and recreational aircraft. With sustainable products such as the first zero-emission Lynx HySnow snowmobile or the high-performance E20 e-kart series, BRP-Rotax is also a pioneer in the field of alternative powertrain models. The Upper Austrian company, headquartered in Gunskirchen, currently employs more than 1,500 people and produces engines for the global market.